Published by Andy Winata
Posted on June 29, 2018
Colors is always be a main topic if we talk about home décor and everything. And beside the bright color we have a calm and dark colors. Black is one of them. But, black sometimes can be an option for the kitchen. Doesn't like white that can make kitchen look clean, black can give a different effect for your kitchen.
Benefit Black Colors for Kitchen
Black in countertops we mixed with light wood will make a kitchen look sophisticated and modern. This is one of benefit using black in your house. Black can goes with everything, with any other colour and it can blends nicely with every style. Beside the countertops, we can put black in island table. Yes, island table that always place in the center kitchen area can be a focal point with black. Paired with proper lighting to make it better.
But, still remember to not use black a lot because it can make your space feel smaller.

Black Kitchen Accent, Different Way to Introduce the colors
Instead of making a kitchen with all black, we just can put the black colors in somethings that can be an accent on kitchen, like chairs, wall clock, plates, etc. Because accents are a major part of any space. They're also a great way to introduce colors and styles without spend expensive change like countertops and cabinets.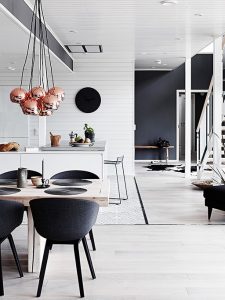 Copyright to Pinterest
Wall Space, Free Space to Exploring Black
In kitchen sometimes we have an empty wall space, on it we can do anything that we want, like painting it black. A black wall can be a suit place to feature different colors and textures like natural wood shelving, photograph or everything that you like. Or we can make a black backsplash. It will look dynamic too.
Copyright to Elle Decor
By : Monika Dini
Source : https://www.housebeautiful.com/room-decorating/kitchens/g13948627/black-kitchen/
                https://www.laurysenkitchens.com/blog/black-kitchen-designs-new-neutral/