Published by Andy Winata
Posted on March 23, 2018
Table is an important furniture in your house. Why? Because table can have many function that related with our activities. Like a place to put your book, coffee, lamp or another things. Beside that, table is a main focus for a room. So, this furniture really important. But what will we do if we just have a limited space? Like small apartment or maybe a dorm room. Table for study or put a television or just for read a book look impossible to put in there.
So, many people think creativily to make it possible. And what will we introduce you in this article is a FOLDING TABLE.
What is folding table? Whether in this article can answer your question to have a table in your limited space? Yes! And we have 4 folding table that can we use for your living place.
1. Folding table for a Simple Breakfast. For you who love being simple, this small folding table really help you. With a small size and simple shape, we can combine it with folding chair. Easy and simple.
2. Folding work desk. This is a trendy furniture too. In this era, many people working in their house. And for them, if they have a limited space, this folding work desk very usefull. In this picture we can see how effective this working desk. Save more space and still comfortable for work.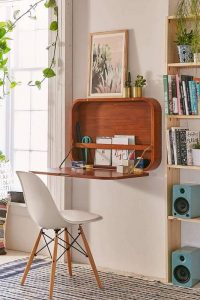 3. Adjustable Folding Coffee Table. This coffee table really look extraordinary. From this picture we can see, a folding table didn't just can we fold to the left or right side, but can we adjustable in vertical way. This coffee table can we use for ordinary coffee table, dining table or for your working desk. Very multi-function.
4. Folding Dining Table. Folding dining table that look practical like this very suit with small house or apartment with limited space. In this folding dining table, we can see it has a storage space inside for save the chairs. And small wheels, make you easier to move that table.
by Monika Dini
Source : Google, Pinterest, Homedit, Dekoruma